For making 13th International Classical Kirtan Competition (ICKC) for youth a SUCCESS.
22nd April 2018 at Sri Gudwara Jot Parkash Sahib Brampton.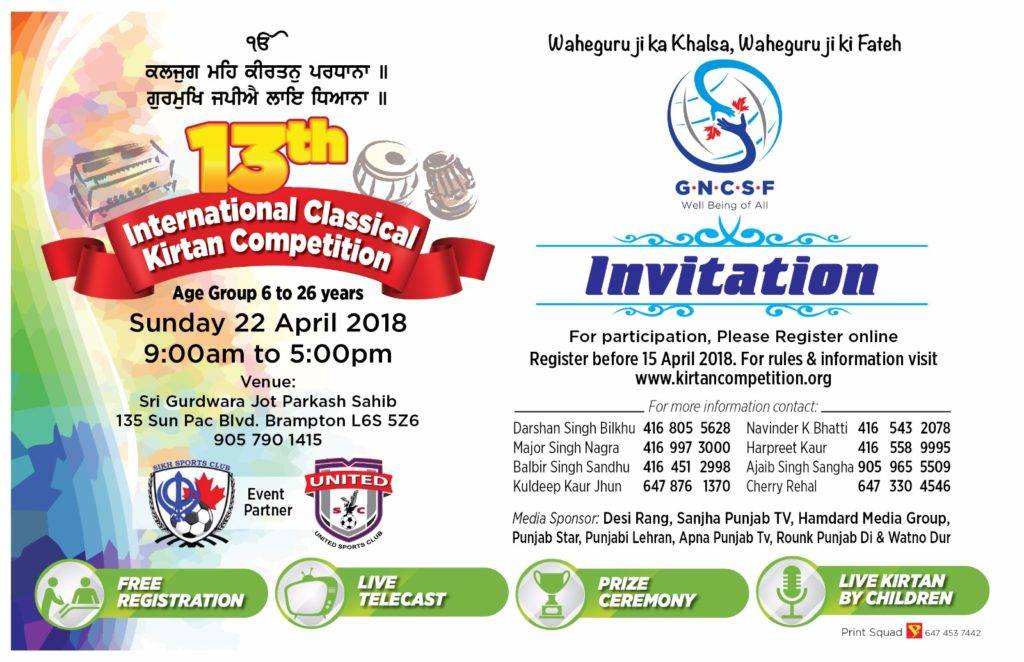 Kirtan is recitation of spiritual hymns from the holy book of Sikhs "Guru Granth Sahib" Guru Nanak Community Services Foundation has been organizing the event annually for the past decade. This is one of a kind competition for youth aged 6 to 26 Years. The participants recite hymns composed with classical music. The winners are awarded trophies in all age group categories. This event is organized annually.
Note: Please note that the following registration forms are valid for sending your registrations for 22nd April 2018, Kirtan Competition.
ICKC, Announcement-To download CLICK below
GNCSF ICKC-2018 ANNOUNCEMENT SAHIBZADAS
Dedicated to sacrifices of Sahibzadas (sons) of Guru Gobind Singh ji
ICKC Rules & Regulations-To download CLICK below
ICKC Registration form To download CLICK below.                   
ICKC Judges Criteria-To download CLICK below
ICKC Judges Affidavit-To download CLICK below
ICKC Time Keeping Rules-To download CLICK below
Raag Ratnakar Book (Punjabi) To download CLICK below
sggs-raag-ratnakar-book-combined
Raags of Gurbani Kirtan in Guru Granth Sahib
Kirtan competition Pictures