13th International Classical Kirtan Competition on 22nd April 2018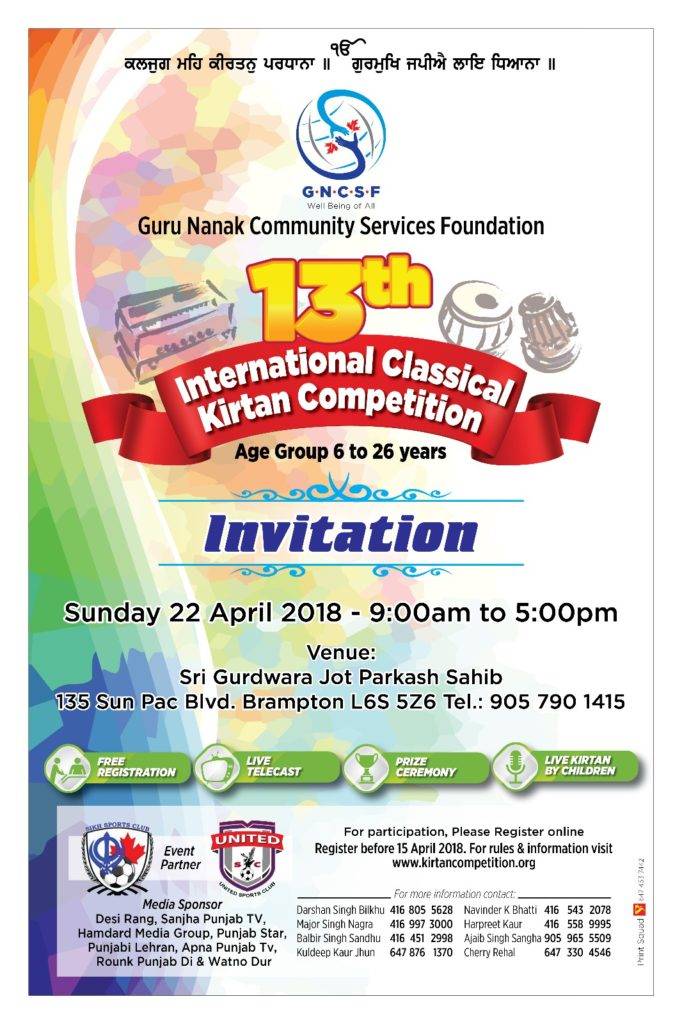 20TH GURU NANAK CAR RALLY & FAMILY PICNIC 

GURU NANAK COMMUNITY SERVICES FOUNDATION
IN ASSOCIATION WITH UNITED SPORTS CLUB & SIKH SPORTS CLUB
TECHNICAL SUPPORT OF TORONTO AUTO SPORTS

 CORDIALLY INVITES YOU TO
20TH ANNUAL GURU NANAK CAR RALLY & FAMILY PICNIC  VENUE: SOCCER GROUNDS ON DIXIE RD & HIGHWAY 407,                                   BRAMPTON, ON.
SALUTE TO THE MARTYRDOM OF FOUR SONS OF TENTH GURU SHRI GURU GOBIND SINGH JI
Watch animated movie on the life of sons of Guru Gobind Singh Ji   Baba Ajit Singh, Jhujhar Singh, Zorawar Singh & Fateh Singh                     Courtesy: Baweja Movies Pvt Ltd & Saga Hits
More details about the ICKC on
Thanks for your support to make 12th International Classical Kirtan Competition a great success!
Thanks for making 19th Guru Nanak Car Rally on 24th September 2017 a great success!
Guru Nanak Car Rally has organized  annually with the technical collaboration of Toronto AuorganizedClub.